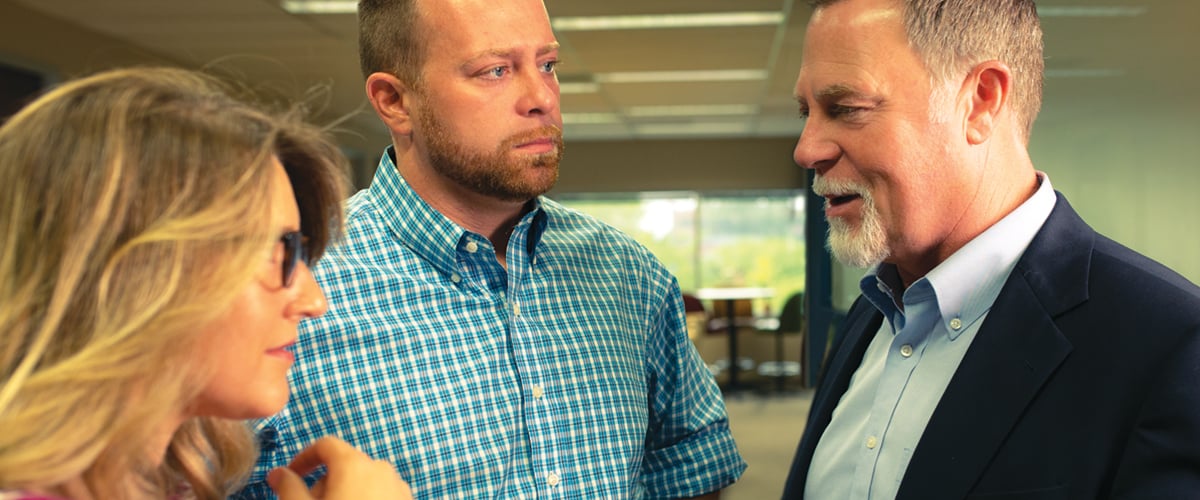 The foundations for FP Transitions were laid in 1999, and that makes our company officially 20 years old this year. I founded this company thinking that I knew a lot more about running a business than I actually did at the time. Armed with a law school diploma and a lot of energy and drive, I thought I was ready to conquer at least a small corner of the business world. Turns out that running a business takes experience and business knowledge.
Along the way, I picked up an important axiom from a local legend who said, "Don't confuse activity with achievement." He was right, but it took me a long time to understand the difference. In retrospect, the first ten years of our company were characterized with a lot of activity; the last ten years is where the achievement took place. The difference maker for us was hiring an outside CEO, Brad Bueermann, to come in and help us turn our activities into achievement on a national scale. Until then, I confused being very busy with being very successful, or at least constantly being on the verge of success. Everything revolved around me and the lawyer in me silently rejoiced. But this wasn't a good, long-term model because eventually I ran out of time and energy. And I got older!
Advisors often mistake activity for achievement too, thinking that their one-owner practice that is 90% or more fee-based and that grows steadily at 10% or more every year is proof that they have built a business and that success has been achieved. I see a lot of independent advisors building what I call "books" and "practices," but not very many building sustainable businesses. What I've learned over the past twenty years is that, while it is incredibly satisfying to have a practice that revolves around the founder, that isn't a durable model, and it is not "a business." At some point, if a practice is to outlive its founder and provide services to the clients for their lifetimes, and not just for the length of the founder's career, significant changes need to be implemented, and the sooner the better.
Early on, we grew fast and I became totally focused on our top-line success and growth rate. But there came a time when it was clear that without strengthening the foundational aspects of our business, it would never grow past a certain point. I had to move myself out of the center of operations and learn to build and run a business like a shareholder, not like the star attraction. Making myself a part of a stronger, more diverse, and younger team of professionals was hard, but very necessary – more than just changing my leadership style, we had to change the culture of our operation and, frankly, that was beyond my skill set. So, we brought in outside help – people who knew things that I didn't – and that made all the difference.
The mistakes that we made along the way now provide memories and smiles though and lessons to share with the advisors we talk to every day. We started with two people (both of whom still work here) and now are climbing through staff member no. 45. I return to the office now after being out on a speaking trip for a week and I'll bump into someone in the hallway and ask, "Who are you?" and they introduce themselves and then respond to me with the same question – "Who are you?!" I've come to learn that this is a sign of a good business; it keeps on running and growing without my hand on every decision. The harder part to accept is that it has actually gotten bigger and stronger, and better, without my hand on every decision. I could never teach others to do this if I had not experienced the process for myself.
I've learned many important things on our journey. The lessons started with our very first client, a registered rep who wanted to sell his practice in California. The owner wanted to find the most qualified buyer to take over and he wanted to receive fair market value for what he'd built. The problem was value wasn't so clear back then. For lack of a better answer, we applied a gross revenue multiple of 1.50 times trailing twelve months gross revenue. It felt right, but there was so much noise around the issue that it was hard to tell.
Some buyers cheered and charged on in, intent on making the acquisition. There were also many naysayers who thought we were nuts. "You can't sell, let alone transfer a client list and their assets" we were told; it's akin to selling "a bag of air." And that was from industry pundits who knew, by and large, how this industry worked! They were mostly wrong, and a little right; our job was to learn fast and listen to what the market had to say.
As the books and practices began to shift to advice-based models with more and more recurring revenue, demand from buyers kept growing – today the buyer to seller ratio is about 50:1. It was impossible to ignore the high demand and not correlate that to a value that was too low. Over time, value not only gradually increased, it also required a more professional, accurate, and affordable, market-based valuation approach. We saw the need to connect an opinion of value to the deal terms and tax results actually taking place, none of which was done in those days. This is what led us to create a valuation tool that we called the Comprehensive Valuation Report, or CVR. Today, having delivered over 10,000 CVRs (not including the many other valuation standards, methods, and approaches we administer) to advisors all around the country and having changed the perception of value and valuation for the entire industry, we consider this a mission accomplished.
Another area where we struggled, oddly enough, was developing our own legal team and the ability to deliver useful, efficient, and practical legal support for the buyers, sellers, and business builders. Lawyers, myself included, tend to think that most solutions start with their brainpower and skillset. Add to that a two-hundred-year-old tradition of billable hours and zealous advocacy on behalf of a single client, and, well, we had the recipe for…lots of activity but too little actual achievement. So, we adapted, changed things, and formed a new culture.
We started with no more billable hours, shifting to a flat-fee approach. We also took the approach that there could be no losers in the work we did – it had to work in the long run for buyers, sellers, staff members and certainly the client base. The result was a non-advocacy approach that allowed us to work with both sides of a transaction, and their professional legal and tax counsel (who often didn't know what FINRA even meant). People told us that this would never work, but here we are, 20 years later, and it works beautifully. And then we changed one more important thing – we asked our legal team to run the last leg of the relay, not the first. The early process is run by consultants, analysts, and compensation specialists, while applying and working through – the lawyers take the resulting plan with all these considerations already factored in and expertly document it. Today, we have six attorneys under roof and we continue to do things our way because it is has proven to be the best way to serve this ever evolving industry.
The journey over the last 20 years has taught us many important lessons. We've learned that selling a practice is NOT succession planning. Selling practices to third-parties remains a key part of our work at FP Transitions, but building a sustainable, profitable, investable businesses is an equally important part of what we do. It is also hard and exacting work, and is the reason we have so many professionals and diverse skill sets under one roof.
We wrote the books on both approaches, quite literally, with the help and support of Wiley Publishing. Our two published books came to provide bookends for those advisors who wanted to build a business and sell, gradually, to a strong group of internal successors. In our books and many white papers we defined, for the first time, terms such as "succession planning," "exit planning," even "continuity planning." We coined terms such as G1, G2 and G3 for the next generation advisors who were willing to invest their monies and their careers in order to build on top of an existing business. We played an important role in bringing SBA and conventional lending into the M&A space. We led the use of entity structures in the building of enduring and sustainable businesses. And today, we lead in the use of mergers to quickly and efficiently reshape two or more practices or books into a business that can provide solutions to all involved. This kind of innovation is hard work, but it is also fun.
Today, as I think back on the journey, it seems like we've just begun. The advice we give to our clients about building a sustainable enterprise isn't something we've read about, or seen others do; we've done it for ourselves and learned by doing. Everything we learned, every step we've taken to get to this point, enables us to provide the best advice and guidance to our clients as they set their own courses into the future.
Thank you for allowing us to be a part of your world and to work together toward even more progress and achievement in this very special profession.