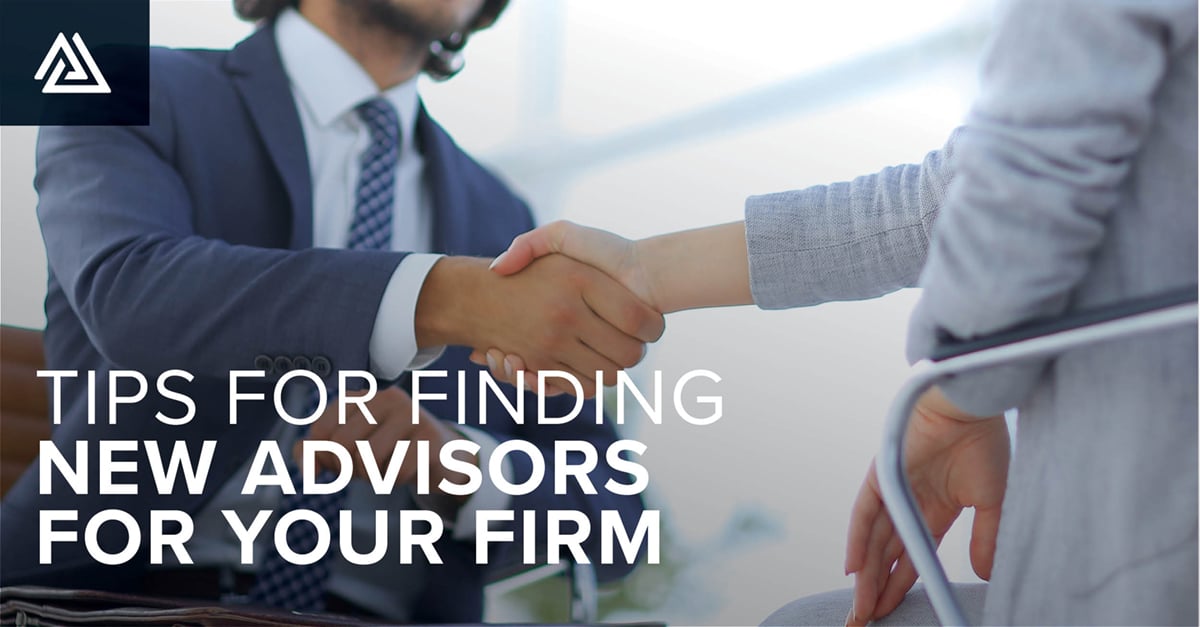 The search for new talent can be time consuming and intimidating. As with any company, online job boards like Indeed and Monster are good starting points. There are other resources to supplement these tools, and as a financial advisory firm there are some unique tools you can leverage. Whether you're looking to recruit experienced advisory professionals, or fresh, new talent, the following are 11 more resources for finding new talent.
1. Industry Groups and Associations
Tap into your professional networks. Attend networking events or reach out directly. Make it clear you're on the search for new talent. You'll find professionals who are either looking for a new firm themselves or know of someone else who is. Some of these industry organizations may even have digital communities set up for professionals looking for an opportunity like yours.
2. Your Broker Dealer or Custodian's practice management team
Like the industry organizations mentioned above, your Broker-Dealer and/or Custodians often have teams dedicated to helping their advisors build their staff. They'll likely be able to connect you to effective search resources, industry-specific job boards, and, potentially, individuals who have already reached out to them looking for a placement.
3. Direct Advertising
You can purchase advertising space in professional network publications, on their webpages, or on social media to advertise your search and reach professionals that you may be missing through other channels. Be sure to highlight your firm's culture and potential career path options for new professionals.
4. Recruiters or headhunters
One of the biggest factors that makes the search for new team members so arduous is that it's time consuming. Recruiters and headhunters can do the leg work for you plus they often have access to a larger pool of resources. They'll use your job description, ideal candidate criteria, and key questions to conduct a search for you. Most recruiters and headhunter services include scouring job sites, reaching out to candidates, and preliminary screening.
5. Career changers
The financial services industry includes professionals that go beyond advisors and their support teams. There are analysts, wholesalers, relationship managers, and more who have strong industry skills and might be interested in moving into an advisory role. Leverage your connections throughout non-advisory professionals as part of your search.
6. Retired military
Retired military members are an excellent source of new talent. These professionals are often driven, dedicated, and are quick to learn new skills and concepts. Don't overlook job search websites that are dedicated to matching firms with talented veterans.
7. People returning to the workforce
If you're willing to invest some time on training and certifications, people returning to the workforce after an absence (due to a variety of reasons) are an often untapped well. These professionals may be new to the industry, but they often bring a lot of life and professional experience from other roles with them.
8. Peer groups of your current younger advisors
Communicate your search to your existing team. This can connect you to their networks of peers–either personal or professional. Additionally, these candidates from that come with a built-in reference from advisors you already trust.
9. Social Media
Leverage your social platforms to post about your search. Again, be sure to highlight your firm's culture and career path potential. In addition to reaching your immediate circle of followers, their shares connect you to a larger sphere of professionals. LinkedIn in particular allows you to conduct a search of young professionals who have a profile that fits your criteria and the ability to connect with them directly.
10. Family
Advisory firms, especially, already tend to have a family-like atmosphere. Why not tap into your actual family to help build your team? You may find an excellent new addition to your team in a daughter, cousin, sibling, son-in-law, niece, or in some other branch of the family tree.
11. Local colleges with programs in financial services
Leverage the career center at your local colleges to connect with soon-to-be or recent graduates. Additionally, consider developing an internship program for Finance students in your area to offer real-world experience (plus college credit) and create relationships with students getting ready to embark on their career path.
Any of these resources can be a powerful addition to your talent search and make the process more manageable. They will help you explore beyond the obvious recruitment avenues and cast a wide net to yield unique candidates that make your team even stronger.