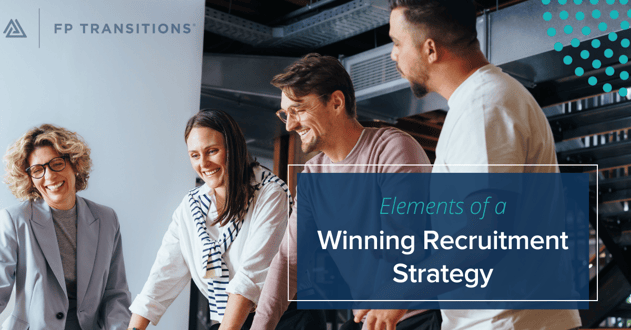 Whether you're looking for seasoned talent or up-and-coming professionals to fill out your team, a winning recruitment strategy is built with intention. It's not just about the role you need to fill, but also about identifying the type of person who best aligns with your business's culture and future growth goals.

What is the reason for adding this person to the team? Is it simply a matter of capacity? Or are there some other opportunities you can seize in the process? Recruiting the right person can also address your goals to:

- Expand your service offerings
- Diversify your client base
- Create improved operational efficiencies
- Secure continuity of client service
- Prepare for succession of business ownership

Understanding which of these align with your existing business plan will help you to tailor role descriptions and find the very best person. Setting the table for success requires vocalizing the right words, expectations and opportunities to your new hire at the outset. Additionally, this focus will help you to communicate what you can offer to attract your ideal candidate.
READ MORE: 11 Places to Find Talent
A Complete Compensation Package
Once you've been able to articulate criteria for the ideal candidate and you've found your pool of prospective new hires, how do you get them to say yes? The process goes both ways: you have to decide if the candidate is right for the role, but they have to decide if your business aligns with their own personal values and career goals. Leveraging competitive compensation, culture, and complete rewards can give you a leg up on snagging the best talent.

First, compensation. The best way to see how you can be competitive in this area is to benchmark your business to get an idea of how are staffing up and what they're paying on professional salaries. Moreover, understanding what you have in your compensation toolbox and that how you pay is more relevant than what.

In your toolbox you've got wages and salary based the role and expected work to be performed. Then you've got bonuses which are based on one's individual performance as well as their impact on the overall business's performance. And, finally, you have equity based on the commitment and investment, which we'll touch on how this fits into the recruitment process in a moment. These elements are individual elements employed in concert to produce a complete compensation package.

DIVE DEEPER: Compensation Solutions and Leveraging Equity
Total Rewards - Beyond Compensation
It's important to be competitive in your salary and wages, but you should also think beyond cash incentives to your total rewards. Your business is unique and therefore has the unique ability to address a prospective team member's priorities regarding values, culture, and career growth.

The alignment of an individual's mission, vision, and values with business's is only discernible if you're able to clearly articulate and demonstrate them to a candidate. Spend some time with your leadership to solidify the drive of your business – both internally and externally.

Your culture is how your mission, vision, and values are applied within the business and how your practices reflect them. This manifests in three areas: participation, advancement, and communication.

Participation. When it comes to incorporating younger, newer professionals, involving them in client experiences as soon as possible builds excitement and inspires them to participate in your value proposition. Sitting in the back office and making coffee or copies is not the foundation for a long-term relationship. Mentorship from a colleague is a powerful way to support individual growth, cultivate open communication, and shepherd new members of your team.

As far as for more seasoned talent, encouraging participation in leadership and running the business can cultivate an ownership mindset. This will emphasize the success of the whole rather than any one individual. It will also help you to determine which might be good candidates for leadership and ownership circles.

These inclusive values and practices offer prospective candidates opportunities for ongoing professional growth in both hard and soft skills. It also helps to illustrate avenues for the next item on the list.

Advancement. Consider what kind of personal and professional growth opportunities you will provide to your team, especially as the business grows and becomes more valuable. Support growth and reward performance not only in advancement of responsibilities but in compensation.

In addition to encouraging participation and professional growth in all aspects of the business, tune into the affinities and interests of your team. Nurture individual strengths in alignment with your overall business strategy and create pathways for advancement to apply new growth and continue to excel.

You are bound to get the question from candidates during the selection process, so be sure you can articulate advancement opportunities and how defined performance benchmarks are evaluated to trigger that step.
Communication. The clarity of communication as well as how easy it is do so is one of the most important illustrations of your business culture. Keeping the lines of communication option amongst your team and on up to the leadership level builds trust and inspires everyone to work for the benefit of business business as a whole.

Communicating expectations of responsibly and providing feedback on accomplishments will help to keep everyone in alignment. Work together to set goals for growth, a plan to achieve them, and what comes after.

Clear communication supports company culture and the retention of a strong team, but it starts during the recruitment process. Be clear in interactions with candidates about what they can expect from the role, the business, and their growth path. Anticipate questions and have clear answers ready. As you make your decisions, communicate in a timely and clear manner to start building trust right away.

LEARN MORE: Cultivating Talent Through Culture
Equity Pathways
This is one of the most powerful tools you have in the battle for top talent in the financial services industry. Equity.

Equity pathways are the culmination of participation, advancement, and communication for your next-generation professionals. It's also the last stage in building a strong team. By offering an ownership opportunity for next-generation professionals they know what they're working towards, and they can look forward to an investment in the business that they're helping you build.

Depending on the candidate and level of experience, equity–authentic or synthetic–can be employed as incentive, an opportunity to present itself in time with performance and demonstrated commitment. Alternatively, when recruiting a seasoned professional you know will have great impact on your firm's growth and value, equity can be built into an initial offer.

Leveraging equity within your complete compensation package has incredible benefits for you, your business, and your team extending beyond recruitment and retention. But, in the context of your winning recruitment strategy, a clear potential for equity ownership as a reward for a career well spent is one of the most powerful incentives.

READ MORE: The Many Benefits of Equity Ownership
A Winning Strategy
If one of your top priorities of the next five years is building the right team that embodies business values and has the ability to take your firm to new heights then it's time to make sure you've got a winning strategy in place. Know what you're looking for and what you have to offer to develop your powerful team.
Ensure your business is ready to support your recruitment strategy, operational growth, and equity deployment with our enterprise consulting team. Let's take your business to the next level, and the next, and the next.