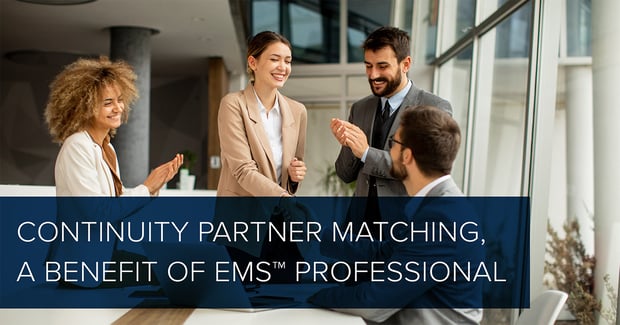 Recently, a client told us that since she had implemented a formal continuity plan, her clients have felt more comfortable adding assets to their portfolios now that their tenure with her business is protected. This stability of continuity is an important cornerstone for continued business growth and client retention.
Currently, FINRA requires that member firms have a Business Continuity Plan (BCP) that is written and can be made available upon request. But it isn't just compliance; having a clear and written continuity plan reassures your clients' concerns about the security of their investments at your practice.
FP Transitions has been helping financial advisors document, implement, and annually update their formal continuity plans for well over a decade. Now through our EMS™ Professional program, we are able to leverage our extensive network of advisors to help connect you to the right continuity partner for your unique business.
Single owner practices without written, actionable continuity plans and identified continuity partners, are at a disadvantage to larger businesses and firms with built-in succession plans.
As the owner and person that has built a trusting relationship with your clients, you know that it is crucial to protect their wealth as well as your business as a whole. The most challenging aspect of developing a continuity plan, however, is finding the right partner. Of course you want to be discerning when it comes to the person who is going to care for the business you've built when you no longer can. Fit is always the foremost consideration.
Introducing Continuity Partner Matching!
Searching for the right continuity partner within your immediate community and professional networks can force you into a partnership that isn't the best match for your clients, or worse, can result in no partnership at all! Now FP Transitions is offering the ability to leverage the most extensive network of advisors in the industry, to help connect you to the right continuity partner for your unique situation.
The Continuity Partner Matching service, available to EMS™ Professional members, allows you to tap into our team of professional coaches and our network of over 30,000 advisors. We'll guide you through the selection of interested continuity partner candidates based on specific time-tested criteria as well as your specific requirements.
Once you have identified the right person, business or firm, we'll help you get the proper documentation and agreements in place to ensure the continuity of service for your clients in the event of death or disability, and help you to protect the value of the business you've built.
Please let us know if we can assist you in this vital step of growth in your business, and reassurance to your clients. If you are already an EMS™ Member, reach out to your representative to see how we can help. And if yo are not an EMS™ Member, you can find out more about the program HERE.