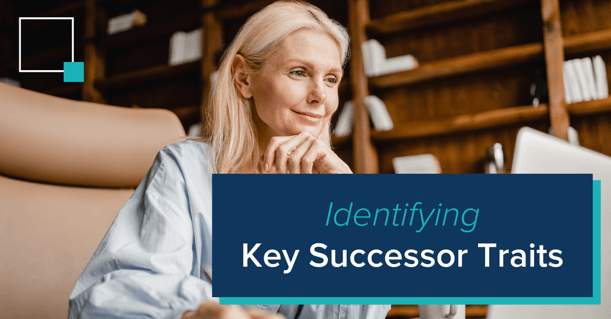 As an owner of a successful financial advisory business, you understand that the team you've built is vital to that success. Taking the next step and giving your top talent the opportunity to become owners can increase your growth and ensure that the business will continue to be successful–for generations to come.
Assembling this successor team and committing to a long-term partnership are important and weighty decisions. How will you know who will make a good partner? What traits and behaviors suggest that someone will make a successful owner? Much of that depends on your own values and priorities as the majority owner of your firm.
Choosing a successor is about knowing what you want your business to become and what skill sets and strengths are needed to move it forward into its next phase of development. As a founding owner, you are not looking for someone to replace you and your skill sets, instead you are looking for a team of someones with complementary yet diverse talents. As you built your business from the ground up, you had to juggle responsibilities in many different areas of business operations and production. Your successors, however, have the privilege of building on the strong foundation that you've already laid. Your next-generation leadership team should be able to leverage the strengths of its individuals to augment the business as a whole.
Over the last several years of working with advisory owners of all generations, we have seen which successor traits are indicative of a smooth transition and will support the creation of a powerful business. In our experience, the following are the most important indicators of a successful partner and owner.
Shared Values
A business is built with a founder's values, goals, and philosophies at its core. Values are not a person's personality or even one's thought process. Values are the driving force behind the way an individual and a business conduct themselves. Core business values and philosophies have to do with how you treat your clients, your philanthropy and community-impact goals, and the investment mindset and lifestyle you encourage within your clients–among other things.
Your values drive how you do business and they are what attracted your team and clients to you in the first place. A successor whose values are aligned with a founding owner's will tend to make similar business decisions and is most likely to be a good fit for existing clients.
Leadership & Communication
Advisors and staff who show initiative, are comfortable making decisions, and are able to orchestrate a team to maximize individual strengths are incredible assets to the business. Management skills like these are crucial for keeping the rest of the team productive and happy, and to keeping operations running smoothly. These qualities indicate that, when the time comes, the next-generation owners will be able to hire and nurture other talented people into the business. Demonstrated leadership skills can help ensure a seamless transition from valued team member to owner. Additionally, next-generation owner prospects who consistently maintain an honest and open dialogue with the existing ownership will make better business partners in the long-term and more collegial participants in your succession plan.
Commitment & Work Ethic
Business ownership is an "all in" and career-length decision. Next-generation owners must be willing to commit to one firm and one set of partners. New owners will have to take on more and more responsibility as older owners begin to reduce their roles in the day-to-day business. They will also be expected to make a long-term financial investment to buy-into the business through some combination of seller and bank financing.
This level of commitment is illustrated prior to ownership through a strong work ethic and an engagement in long-term goal setting and decision making. These team members are willing to invest the necessary time and effort to ensure things are getting done and that the business is growing. Additionally, having a conversation about ownership with ownership prospects will help clarify whether they are truly ready to make an all-in commitment and confirm that they appreciate the full responsibility of the role.
It's also important to note that the commitment indicator extends beyond the advisor themselves. An advisor's partner and family must also support their decision to be an owner and recognize the impact of the commitment on their lives as well.
Focus Beyond Production
As mentioned, a successor doesn't need to be a clone of a founder nor do they need to excel at everything (that's what a successor team is for). However, they should at least understand each aspect of running the business in order to make educated decisions for its success. Effective owners should split their focus between incoming top-line revenue and bottom-line profitability of the business. They need to be able to balance the two and know how to allocate cash flow to maximize business growth. Advisors who take an interest beyond their individual production and clients to see how they can impact overall operations and overhead have adapted a key mentality for strong business ownership.
Long-Term Vision
Leadership, holistic business commitment, and the ownership mentality are all important traits of a good successor. A team member who takes these traits a step further–and can look into the future at their impact–will help shape the long-term success and sustainability of the business. These professionals show a drive toward improvement and innovation. They initiate discussions about the future and implement strategies that will have a lasting effect on the business.
Both you and your next-generation leaders must understand the difference in journeys necessary to build a firm up from $3M to $6M in value versus building from $750K to $3M. This is where understanding what your business needs and harnessing diverse skill sets is going to be most beneficial to the future of your business. These new owners will serve more as builders and organizers rather than entrepreneurs, augmenting what has already been built to take the business to its full potential.
To find the best successors for your business, you should first take a look at the team you've already assembled and keep an eye out for these key qualities. Remember that effective ownership teams often include more than one next-generation owner in order to leverage varied strengths and ideas to enhance the business. Additionally, you should be strategically recruiting top talent with future ownership in mind. This will allow you to fill any gaps and to build a powerful, multi-generational ownership team.
Identifying your successors and initiating internal succession is an important step in the growth journey of your business. The right successor team should demonstrate skills and mindsets that complement both you and your unique business while showing strong leadership and a commitment to building upon the foundation you've already built.