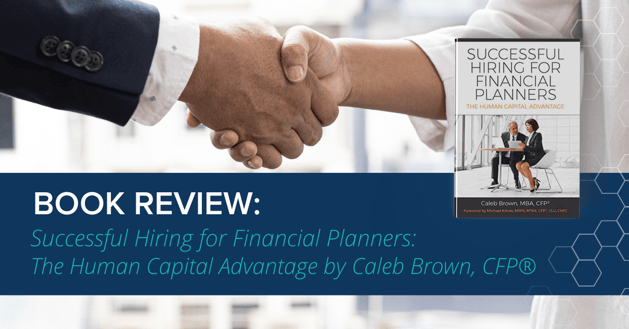 Brown, Caleb. Successful Hiring for Financial Planners: The Human Capital Advantage. Coventry House Publishing, 2018.
Many small financial advisory firms don't have a Human Resources Department. So when it comes time to seek out, hire, train, and develop employees, those tasks usually fall to the owner. They must figure out where to find candidates, what to ask in an interview, how much to pay, how to set up a training plan, and how to keep them engaged and motivated. That research takes valuable time away from the owner's other obligations and productivity.
There is a lot of information around hiring out there, however, much of it is not fully relevant to our unique industry. This means that the hiring process often is an uncoordinated plan stitched together from various sources. Fortunately, Caleb Brown, co-founder and partner of New Planner Recruiting, has assembled all the information needed in one book: Successful Hiring for Financial Planners: The Human Capital Advantage. The goal of the book is to help "enterprises grow so they can serve the consumers who are in need of their guidance the most."
"According to the Bureau of Labor Statistics, through 2024 the employment needs for personal financial advisors is expected to increase by 30 percent in North America."
–Successful Hiring for Financial Advisors
I wish I'd had this book 25 years ago. While working at an RIA firm, and later at a Broker Dealer, I hired for many roles, including advisors, compliance professionals, and support staff. Prior to the internet, hiring was more straightforward. I would run an ad in the newspaper, receive resumes in the mail, and set up appointments by phone. After numerous interviews, I'd select a candidate and make a salary offer. Training for the new hire consisted of sitting next to someone and watching them work. Once the internet became a more prevalent resource, the process actually became more complicated. The volume of options for advertising positions and online resources for the hiring process has expanded, but all these options have made it overwhelming too. Knowing the right places to look in an age with so many resources and knowing which ones are the best is a daunting prospect. This book would have saved me countless hours as I was trying to navigate this process.
Brown begins his book by going through the steps to determine what type of advisor would be the best fit. Different businesses will have very different needs for a new advisor depending on their size and where they are in their lifecycle. For example, a firm that has recently acquired a book from a retiring advisor will want someone who can step right in to start servicing clients. Whereas a larger, established firm may be looking for recent graduates or career-changers to help support senior advisors.
"If you're a strategic thinker, you'll need to hire someone to implement your ideas and carry out your vision. Or, if you're gifted at bringing in new clients, you'll need someone to help serve your existing client base."
–Successful Hiring for Financial Advisors
At FP Transitions, one of the most frequently asked questions we hear from advisors is: "Where do I find good candidates?" Brown covers this thoroughly and suggests networking, putting ads in financial publications, or posting on job boards (he even provides a list of relevant job boards). He includes an important reminder to make sure you have an up-to-date, intelligent and welcoming web presence. The first place job seekers will go is the internet. Your own website should be current, clearly share your culture, and should link to any of your firm's news, blogs, articles, publications, and presence on social media.
Brown also takes the guesswork out of the interview process. This is probably the biggest time saver in the book! He provides a sample job description, which includes a position overview, initial and future areas of responsibility, qualifications needed, and benefits offered.
"My experience has been that most business owners tend to place too much emphasis on technical competence because it is what they're familiar with and it's the easiest to measure. But a lack of technical competence accounts for 11 percent of new hire failures…"
–Successful Hiring for Financial Advisors
He suggests what to look for during the application process. Is the candidate professional, accurate, and thorough in your first encounters with them? How they treat the application and interview process is indicative of how they will treat their job. A sample interview agenda has the candidate meeting with members from all areas of the firm besides having the initial Q&A session.
Beyond the interview and offer, Brown's advice will go a long way towards making the onboarding process easier for new hires and employers. Many of us experienced the "new guy" feeling early in our careers. We were left sitting at a desk the first week with little to do, missing login information for our computer programs and having no plan. I believe first impressions are important! Brown takes care to demonstrate how a welcome letter, owner and new planner pledges and a training plan go a long way in ensuring a smooth transition for the new hire. The "Owner Pledge" and "New Planner Pledge" (pages 78 – 79) show that the owner(s) is committed to supporting the new planner, who in turn will be focused on learning to be a great planner. And don't forget to inform your current staff of any commitments you'll need from them to train your new hire.
Since many of our clients are looking for new partners, having a well-structured career path to offer is vital to differentiate yourself from other firms. Some of the top complaints from new planners include having unclear expectations, feeling underutilized, and seeing a lack of mentoring and resources. Brown provides guidelines for expectations at regular reviews. This includes learning new concepts and products, increasing client interaction, earning designations, developing financial planning skills, and increasing contributions to the firm in different areas.
You'd have to go to dozens of websites to find all the information presented in Successful Hiring for Financial Planners. Given the competition for talent, this is a vital reference book for any financial planning firm. I'd also recommend it to candidates to help them prepare for the interview process and get an idea of what they can expect from a firm that really cares about seeing their advisors and staff succeed.