UNIQUE PRACTICES NEED UNIQUE SERVICES
Assess your current value and position as a foundation for achieving growth. Whether your business goals include increasing value, recruiting new talent, selling your business, or building a legacy, FP Transitions has the tools and experts to help you get there.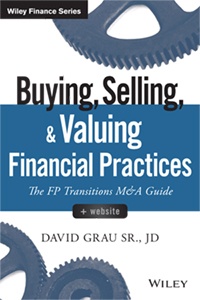 The FP Transitions M&A Guide
Buying, Selling, and Valuing Financial Practices
Ensuring a successful acquisition or sale is a matter of details. Buying, Selling, & Valuing Financial Practices, the latest book from FP Transitions president and founder, is a master guide to buying, selling, and merging financial services businesses. Tapping into almost two decades of experience in the financial industry's M&A marketplace, this book provides in depth information and strategic guidance to prepare both buyer and seller for a smooth sale that ensures both walk away with the best possible terms.
This guide and its companion website offer tools, worksheets and valuable advice enabling advisors to:
Master the concepts of value and valuation
Utilize advanced deal structuring techniques
Understand how to acquire a book or practice versus a business
Navigate the complexities of this highly-regulated profession
Buying, Selling, & Valuing Financial Practices will ensure that the M&A transaction is properly and professionally executed for an outcome where everyone wins—buyer, seller, and clients.
Also available: Our first book, Succession Planning for Financial Advisors.